URBINO "Invitation to Palazzo Ducale" guided tour for individuals, families and small groups (from 1 to 5 participants)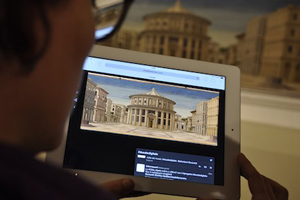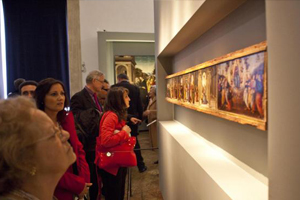 Durata: 2 Ore (circa)
Luogo: Urbino, Marche
Codice prodotto: 009620, VGCORR
A guided tour inside this building in the shape of a city that winds through evocative settings: Cortile d'Onore, Biblioteca del Duca, La Jole Apartment, Guest Apartment, the Duke and Duchess' Apartments, the underground floor. A plunge into History that will allow you to discover the everyday life in the Court of Urbino, as well as the great masterpieces of the Galleria Nazionale delle Marche made by the greatest Renaissance artists: Piero della Francesca, Paolo Uccello, Giusto di Gand, Raffaello, Tiziano...
The service is available in the following languages: English, Spanish, French, German.
The price includes:
- Guided tour service in a foreign language (1 guide)
The fee does not include:
- Entrance ticket to Palazzo Ducale;
- Booking of the entry time slot (optional, recommended in the period from March to May, € 1,00 /person);
- Anything not expressly indicated in "the price includes".
Ticket prices for Palazzo Ducale
Standard ticket € 8,00
Concessions (*) € 2,00
– EU citizens aged between 18 and 25;
– Non-EU citizens aged between 18 and 25, provided there is a reciprocal discount agreement.
Free ticket (*)
– EU citizens under 18 years of age;
– members of the I.C.O.M. (International Council of Museums);
– tour guides from the European Union, complete with professional licence;
– tour interpreters from the EU when needed to work alongside the guides;
– staff from the Ministry for Cultural Heritage and Activities;
– groups of students from public and private schools in the European Union, accompanied by their teachers, subject to reservation and within the numbers set by the museum;
– teachers and students from the faculties of:
*Architecture;
*Conservation of Cultural Heritage;
*Educational Science;
*Literature and Philosophy (courses with a specialisation in archaeology or art history);
*Fine Arts Academies;
– students of the Central Institute for Restoration, from the Opificio delle Pietre Dure, and the School for Mosaic Restoration;
– EU journalists with professional accreditation card;
– EU citizens with registered disabilities, together with carer;
– Non-EU citizens aged between 18 and 25, provided there is a reciprocal free entry agreement.
Free entry
-First Sundays of the month from October to March;
- Settimana dei Musei;
- Free openings established by the National Gallery of Marche:
1st of June – Feast of San Crescentino, patron saint of Urbino;
7, 8th of June – Birthday of the Duke Federico da Montefeltro;
12, 13 and 14th of August – Festa del Duca;
7, 8th of December – Festa del Duca d'Inverno.
(*) Valid documentary proof will be required.